Our Resq Stories
Rhoen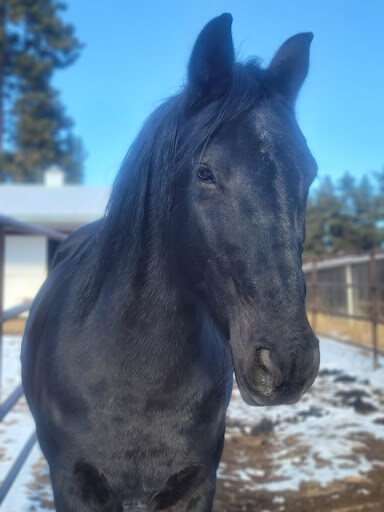 Rhoen is a ResqRanch original, she has been with us since birth! Her mother was pregnant with her when their owner was diagnosed with a terminal illness. She was unable to care for an expecting mother much less a foal and reached out to us! Since then she has grown into a beautiful black mare that loves to lead the herd during arena time.
---
Cesar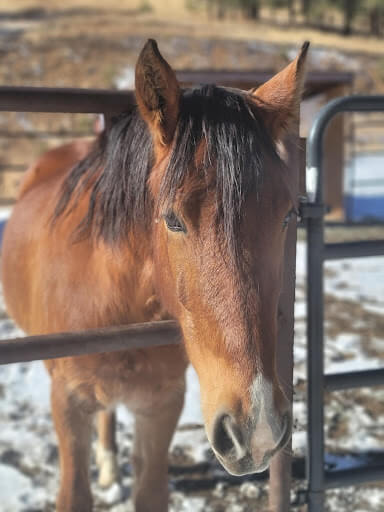 Cesar the wild Mustang came to us from the Meeker Mustang Makeover challenge. He was one of the hundreds of wild horses rounded up by BLM. If he didn't join us he would be destined to spend his days in a holding pen or worse. He has done amazing in his positive reinforcement training. Cesar loves to target practice and is even excited to saddle up and go for a ride.
Fun Fact: Did you know if only 5% of all horse owners would adopt a wild Mustang there would no longer be a need for round ups and holding pens!!
Learn more about Cesar HERE
---
Emblaze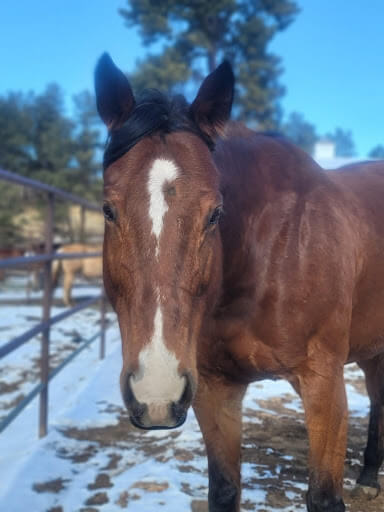 Emblaze is one of our newer additions joining our herd in 2020. This off track thoroughbred didn't get her name for fun, she raced an astonishing 51 times! She earned her name, Blaze with her speed and her gentle step. Now she races on easy street at the ResqRanch, playing in the arena and only jumping for fun!
Read more about Emblaze HERE
---
Spartan (Prince of Flame)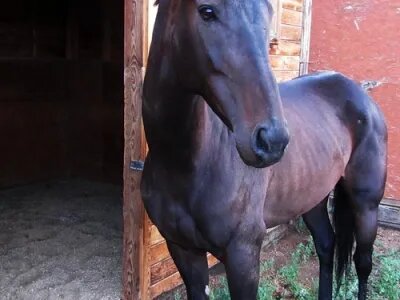 ---
Dominic the Donkey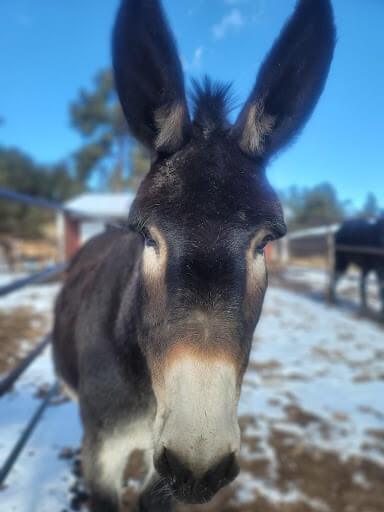 Dominic came to us in bad shape. He was living in a chicken coop covered in mange and at risk for serious disease. He is a great example of why our mission is so important, through education, end the need for shelters, rescues (and Mustang holding pens) in the first place!! With the proper care and training, this donkey turned into a healthy, loving companion!
---
Oliver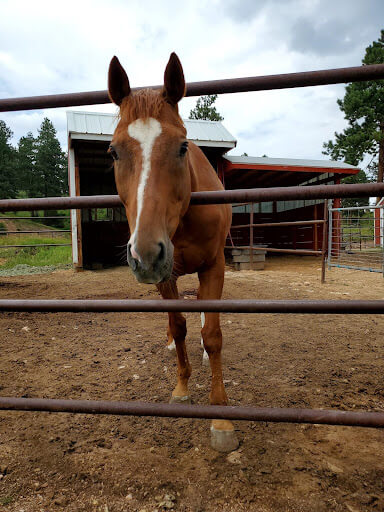 Oliver has legendary bloodlines and is actually the son of a Preakness 2nd place winner!! While his original destiny was to follow in his fathers' hoof prints as a racehorse he was born with a crooked hoof. This abnormal hoof was the reason for the racing industry to cast him off as worthless at 6 months of age. With proper hoof care he is able to live his best life at the ResqRanch and he will always be a winner in our eyes!
---
Sugar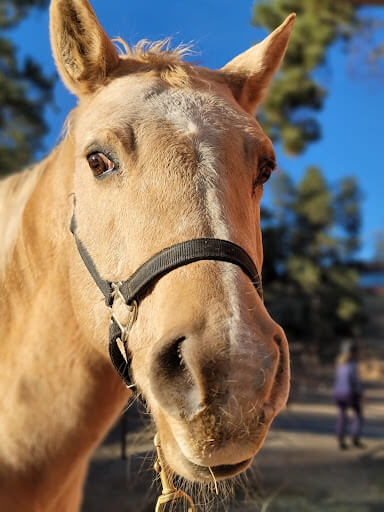 Sugar is a beautiful Palomino that spent most of her life working on a ranch. She put in countless hours of hard work and labor before coming to us. She never received proper dental care which resulted in medical problems. Now that she is a resident of the ResqRanch all of her medical care and her teeth are getting the proper attention. She is now enjoying her retirement with her friends here at the ResqRanch and is always happy to greet us with cute little kissy lips!